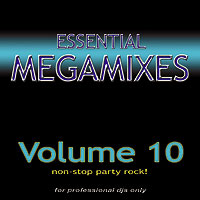 No too much dance stuff on here just lots of Party Rock, which makes it an entertaining listen.
DJ Redlight (Canadian Jason Racicot) mixes some 80's Rock Classics including Guns And Roses, Bon Jovi, Van Halen, Scorpions, ZZ Top (All The Obvious Tracks)
DJ SERG returns with a couple of varied mixes. More obscure Rock (Like the way The Strokes mixed with AC/DC and a Jive Bunny type mix.
007 gives us a Nu Metal megamix, the pick of the mixes because you don't come across much of these sorts of a magamixes.
The Rock N Roll is more early 80′ New Wave
Here's the track listings and timings for the 5 mixes.
1) DJ REDLIGHT ROCKIN' 80'S MEGAMIX
123-130-148 BPM – 13:45
Welcome To The Jungle – Guns & Roses; You Give Love A Bad Name – Bon Jovi; Jump – Van Halen; Sharp Dressed Man – ZZ Top; Girls, Girls, Girls – Motley Crue; White Wedding – Billy Idol; We're Gonna Take It – Twisted Sister
2) 007's MODERN ROCK MEGAMIX
100 BPM – 12:57
In The End – Linkin Park; Forever – Kid Rock; Down With The Sickness – Disturbed; Youth Of A Nation – Pod
3) DJ SERG'S CLASSIC ROCK MEGAMIX
88-92-110 BPM – 12:52
Tom Sawyer – Rush; Pour Some Sugar On Me – Def Leppard; Back In Black – AC/DC; The Strokes – Billy Squire; I Love Rock & Roll – Joan Jett & The Blackhearts; An other One Bites The Dust – Queen
4) DJ SERG'S EXTENDED JIVE BUNNY MEGAMIX
185-180-172 BPM – 8:43
Rock Around The Clock – Bill Haley; Wake Up Little Suzie – Everly Brothers; Hound Dog – Elvis; Jail House Rock – Elvis; Summertime Blues – Eddie Cochrane; Splish Splash – Bobby Darin; Great Balls Of Fire – Jerry Lee Lewis; Do You Love Me – Contours; Rockin' Robin – Bobby Day; Johnny B. Good – Chuck Berry
5) ROCK-N-ROLL FLASHBACK MEDLEY PT. 1
147-165 BPM – 13:19
My Sharona – The Knack; We Got The Beat – The Go Go's; Melt With You – Modern English; Whip It – Devo; What I Like About You – The Romantics; R.O.C.K. In The USA – John Cougar Mellencamp
NEW LINK 2019